THE EASIEST WAYS TO GIVE YOUR HOME A LUXURIOUS FLAIR
Views : 159
Update time : 2018-11-13 13:23:06

There's nothing more indulging than spending time in a luxurious five-star boutique hotel. What if you could enjoy such an ambience every day? Well, you can and all you need to do is design a home with opulent appeal. Not only is this more affordable, but it's also surprisingly easy. With just a few luxe home upgrades, you can give your home an infinitely lavish flair.
START WITH A CLEAN BASE
elegence and luxury can't really come into focus in a cluttered space. Therefore, you should start by designing a fresh, clean and clutter-free base that will enable you to open up your space, and your home's luxurious features will be able to truly stand out. This will transform your home in a blank slate and allow you to create a more luxurious picture of it. Of course, you don't have to get rid of all of your belongings – far from it. You just need to find a luxe way to accentuate them.
DECORATE WITH FAUX FUR
Letting texture dominate your space will create a layered ambience that radiates with cosiness and comfort. The first choice that comes to mind when you think of luxurious materials is definitely faux fur. Not only will this fuzzy material help you create a cosy home environment, but it will also bring in a touch of opulence and glamour. From accent area rugs and cosy floor cushions to fluffy covers and accent pillows, there are plenty of ways to use it. You can even upholster some of your furniture pieces with it, such as a lovely ottoman or a leg stool.
CONTRAST IT WITH LEATHER
Creating a striking contrast between different textures is one of the most effective ways to accentuate different pieces. And there's no better pair for faux fur than leather. You can go with infinitely comfortable leather lounge suites and set them against faux fur. This will juxtapose the two textures with each other, creating a truly opulent appeal. Furthermore, sophisticated leather furniture is the perfect addition to a luxe home because it will help you design a rich home ambience with plenty of extravagant materials.
PICK A COHESIVE PALETTE
Bringing a sense of opulence to your home starts with picking a luxurious colour scheme. You can go with rich neutrals, royal moody tones or subtle muted shades. The key lies in creating a cohesive, harmonious look. Once you've chosen your palette, you should stick to it. This will help you create a subtle look that exudes balance and elegence, which is one of the easiest ways to create a luxurious vibe in your home. If you want to go a bit further, you should focus on varied, rich and warm neutrals that will create a deep look, or go with regal blues, purples and reds for a truly lavish ambience.
ADD A TOUCH OF MARBLE
Where there's luxury, there's marble, too! For a magnificent, luxe look, marble is always a great choice. There's simply nothing more enticing than charming marble tile backsplash in the kitchen or a marble vanity in the bathroom. However, since marble is on the expensive side, you can use it in moderation while still achieving the same effect. For instance, you can use marble for just a few floating shelves. You can also go with some extraordinary and budget-friendly marble alternatives that don't fall short of the original's appeal.
BE BRASSY AND GOLD
Choosing the right finishes can also help you design a home that exudes luxury. Gold is one of the most obvious choices that have a timeless status in interior design. Adding just a few gold features to your space will transform it into a luxe retreat. However, if you want a slightly subdued, but equally stylish and opulent alternative, brass is the way to go. It will help you add a more understated touch of luxury than gold. Either way, you can use these lavish finishes for knobs, pulls, hooks, lighting fixtures, frames and other decorative details, bringing glitz and glamour to your five-star boutique haven.
HIDE YOUR TV
There's no need for your TV to dominate your space when you can accentuate other mesmerising details. Thus, you should consider mounting your TV above your fireplace and hiding it behind removable closet panels or a glamorous mirror. Not only will this allow other luxurious details to take the centre stage in your space, but revealing your hidden TV will also create a spectacular effect.
Bringing the atmosphere and luxury of five-star retreat hotels can be quite simple. All you need to do is try some of these luxe design tricks and you'll be able to enjoy a lush atmosphere at your own home.
Related News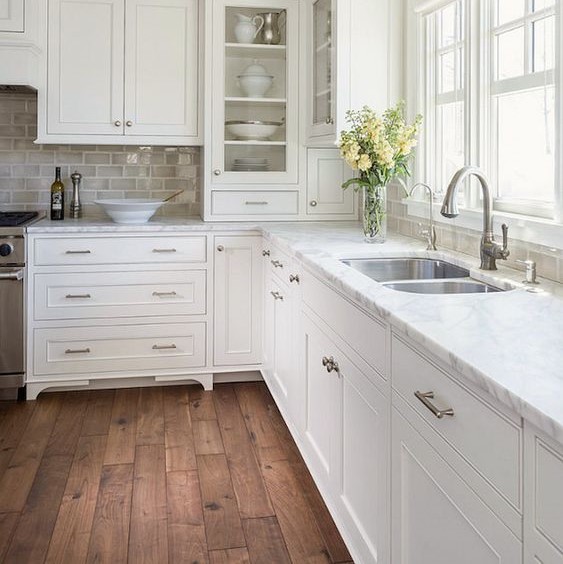 KITCHEN DESIGN GUIDELINES
Oct .21.2018
The kitchen is the heart of every home, where families cook, entertain, and relax. Whether you're building a new home or remodeling an existing kitchen, use our planning guide to make smart design decisions for the key elements of the room.